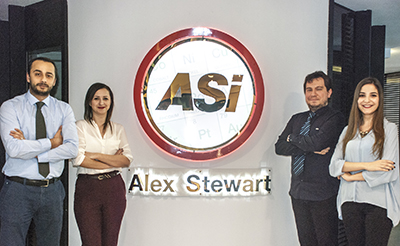 Inspection
Trusting Alex Stewart to carry out your inspection needs ensures that all of your contractual specifications are met and provides viable protection for international, commercial businesses.
Accurate weights and good delivery are just two factors that need to be considered to meet LME contractual obligations. Alex Stewart inspectors are fully conversant with all internationally accepted sampling and weighing procedures.
Supervision, inspection and sampling are carried out according to ISO standards. Practical and correct sampling methods are applied to obtain samples that are homogenous and representative of the whole cargo. By adopting stringent sampling methods and by attending the whole duration of the supervision, Alex Stewart ensures accurate samples every time the team is called into action.
Inspection and analysis costs are minor compared to the commercial value of your commodity.
Inspection Risk Management (IRM)
IRM is an inspection service at both load port and discharge port that ensures your cargo is optimally protected. The service includes initial consultancy, investigation and technical reports that explain findings about loading and discharge logistics, infrastructure and weighing/sampling procedures.
On subsequent shipments, inspectors will be present throughout both loading and discharge to supervise operations, detect inferior quality cargo and ensure that correct procedures are adopted to prevent your consignment from discrepancies, contamination or damage.
Inspectors inform customers immediately if there are any problems during loading or discharge procedures. Letters of Protest can be issued upon request. Digital photographs can also be taken on demand to provide visual evidence of the material's quality and cargo operations. A detailed report will be produced and sent to you as soon as the work has been completed.
Inspection Services
Pre-Shipment Inspections
Storage & Stowage Inspections
Transportable Moisture Determination
Hatch Hose Testing
Establishing Source of Water Ingress
Ullaging of Ships Tanks & Quality Calculations
Hold Suitability for Nominated Cargo
Tank Cleanliness Inspection
Temperature Determination
Supervision of Discharge/Loading
Recording of Cargo Distribution
Control of Cargo Movement and Handling
Finished Product Inspection
Store Intervention
Damage Control Inspections
Quality Control
Loss Control
Weight Control - Quay/Weighbridge
Tallying & Stockpile Control
Weighing Supervision
Sampling & Quality Sample Preparation
Moisture Determination
Granulometry Testing
Viscosity
Letters of Protest
Shipping
Alex Stewart Denetim ve Analiz Hizmetleri Ltd.Şti. provides reliable pre-shipment inspection services for finished products and bulk commodities. Pre- Shipment Inspection (PSI) can also be extended to include traceability.
Core PSI services provide physical and visual inspection of goods before shipment to establish that imported and exported goods and their invoice value, tariff code and customs duty all conform to specification and correspond to packing lists so that they are able to clear through customs in the collection of correct duties.
PSI and analysis services include checking that the product is within specification and fit for intended use, assessment and inspection of quality control processes, witnessing in house tests, packaging reporting services, checking labelling and documentation, weight verification and much more.
Alex Stewart Denetim ve Analiz Hizmetleri Ltd.Şti. offers a comprehensive range of marine services to calculate cargo weights accurately, ensure that appropriate storage and handling methods are being employed and evaluate the condition of the vessel or containers prior to and during loading.
Shipment Services
Draft Survey/Barge Gauging
Condition Survey
Tanks and Liquid Cargo Survey
Stability Calculation Survey
Hatch Survey
Container Inspection Survey
On/Off Hire Survey
Marine Cargo Surveying
Pre-Shipment Survey
Lashing and Securing Survey