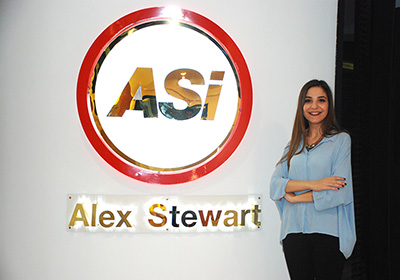 Alex Stewart International's laboratories have a unique competence: a trustworthy and recognised global network that employs qualified and experienced chemists using state-of-the-art analytical equipment to deliver the most precise and prompt results service for a wide range of industry sectors.
The strategically located Alex Stewart laboratory network proves the full range of assaying and analytical services for base, minor and precious metals, including jewellery, ores and concentrates, ferro alloys, recycled scrap metal, metallurgically complex materials, coal, geochemical mining and exploration services. Through Alex Stewart Agriculture, we are also able to provide a complete range of analytical services for agricultural soft commodities and products.
All Alex Stewart laboratories tailor their services to deliver cost effective and fast turnaround analytical services without compromising quality and result accuracy. Metal laboratories are able to perform analyses for over 70 elements of the Periodic Table.
Analytical Instruments Include:
ICP Emission Spectrometers: Analysis of a wide range of elements at PPM for multi-elemental accurate results
AA - Atomic Absorption Spectroscopy: Measures low levels of elements in all metallurgical materials
Carbon Sulphur Determinator
X-Ray Fluorescence Spectrometer: Determine principal and trace elements
High Precision Titrators: Fast and accurate determination of elements including silver, chlorine, fluorine and ferro alloys
GC-MS
HPLC
Services Include:
Confirm the date sample(s) were received
Advise the date you can expect your final results and certificates
Deliver fast turnaround and accurate results
Give a status report and provisional result updates
Release e-certificates and hard copy reports
Arrange additional tests as and when required
Offer technical advice and result interpretation
Provide professional and friendly customer service
Carry out all clients' work in complete confidentiality
RoHS and WEEE
Rapid XRF-screen Testing
Alex Stewart International can carry out rapid XRF screen testing of electronic components and PCBs in accordance to the Restriction of Hazardous Substances (RoHS) and Waste Electrical and Electronic Equipment (WEEE) Directives. To comply with RoHS and WEEE you must ensure that your products are thoroughly checked. Our screening tests will verify the percentage of harmful elements in line with the RoHS Directive.
Whether your company manufactures products, supplies to the end manufacturer or recycles electronic scrap by testing electronic components, household appliances, telecommunications equipment, toys and other consumer goods, you will receive a certificate that confirms whether or not your product contains lead, mercury, cadmium, hexavalent chromium or polybrominated biphenyls.
Further in-depth analyses can be applied on request if evidence that these materials are present is found.
XRF Detection Limits
Cadmium 100ppm
Chromium, Lead, Mercury, Bromine 1000ppm
Benefits
By choosing our screen testing services, you will:
Control your liability
Limit long-term expenses and time involvement
Limit supply chain disruptions and avoid loss of revenue to competitors
Improve your production turnaround time